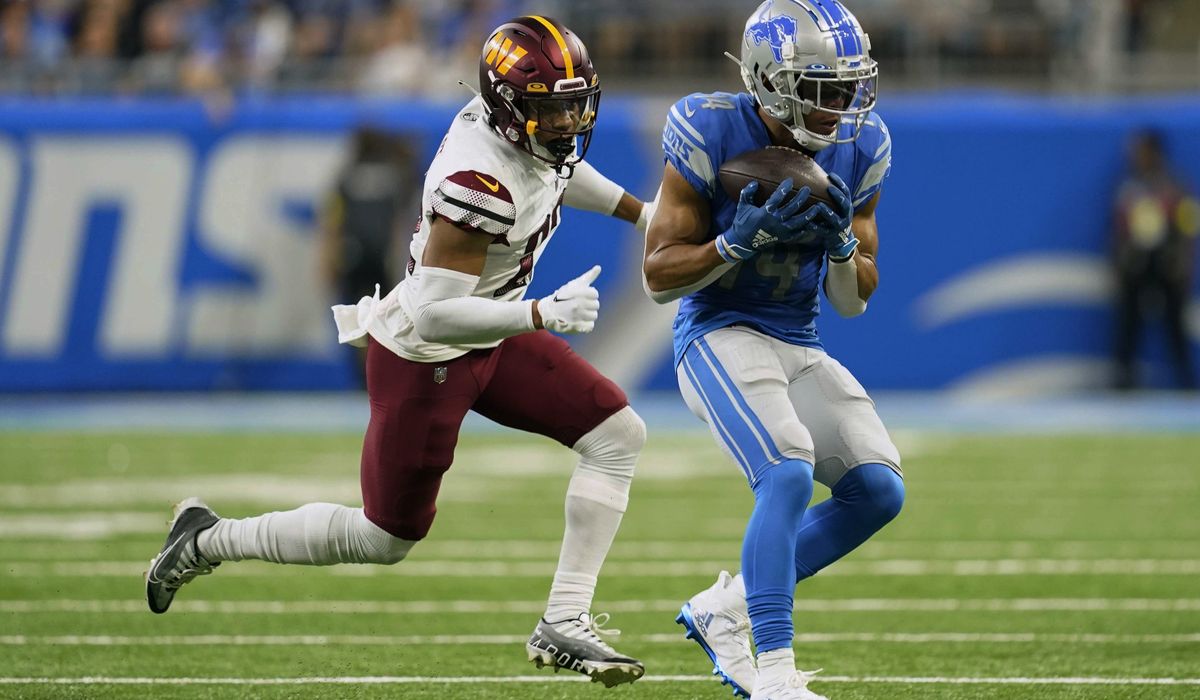 President Biden has declared the pandemic is over. Washington Commanders safety Darrick Forrest made it official Sunday after his team's 36-27 loss to the Detroit Lions.
Talking to reporters in the visitors' locker room in Detroit, Forrest said what he thought the team's problems were that led to the Commanders trailing 22-0 at halftime.
"It was scheme," Forrest said. "I felt like they knew exactly what we were in."
Unlike in coach Ron Rivera's first two seasons, Forrest's comment came during the postgame locker room availability — a practice that wasn't allowed by the NFL in 2020 or 2021 due to the COVID-19 pandemic. Media are once again allowed in locker rooms this season.
Forrest included an attempt at a disclaimer. "It was great offensive play-calling," Forrest said, but the damage was done. He said his coaching staff got out-coached.
Forrest may not have meant it to sound that way. Or maybe he did. But when a player tells a reporter after a loss that "they knew exactly what we were in," that is about as big an indictment as you can make of your coach — in this case, the Commanders' First Amendment martyr, defensive coordinator Voodoo Jack Del Rio.
It doesn't look too good for Rivera, either.
When asked Monday about Forrest's quote, Rivera gave a short response, which is noteworthy, because typically none of his responses are short.
"I don't think that," he said, responding to the suggestion that the Commanders' defense was predictable, to put it kindly. "I think what happened more than anything else was we missed some opportunities to make plays."
Coaches, of course, don't like players to question their coaching. They prefer it the other way, like Rivera's and Del Rio's criticisms of 2021 first-round draft choice Jamin Davis. Rivera took some shots at Davis again after the Detroit loss.
When asked what he saw from Davis, who was roasted by Del Rio last week, during the game, Rivera critiqued the 23-year-old's "inconsistency."
"Again, as a young guy, he's going to learn and grow but, hey, we're running out of time as far as that's concerned," Rivera said. "We've got to go out and be consistent. That's a big part of it. He's got to continue to work it and get better at it."
The players may feel the same way about the coaches. Further losses — and there will be losses — and we may find out.
This was the first regular-season loss for the Commanders (literally, it was the first loss under the new brand) since COVID-19 caused a shutdown of locker room access.
That was the silver lining in the cloud of the pandemic for Rivera — no locker room access for the media after games. That is often when problems are revealed, when grievances are aired without the filter of team control. Instead, a few players were brought to a stage in press conference mode, when tempers have calmed and when cooler heads often prevail.
When players are in the locker room in a postgame loss atmosphere, emotions can still be raw and opportunities to vent are just a microphone away. It's in the locker room that you got the Josh Norman diatribes or the D.J. Swearinger coaching body slams that eventually got him released from the team.
Imagine if there had been a postgame scene for reporters to witness following the Jonathan Allen-Daron Payne sideline fight before in Washington's 56-14 loss to the Dallas Cowboys last December — a fight that, according to writer Mike Silver, turned into a brutal locker-room brawl during halftime?
As it was, by the time both Allen and Payne had made it to the postgame media press conference, all ducks were in a row. "It's all good," Payne said.
Would 51 other teammates, after an embarrassing defeat like that Dallas loss, have felt the same way if notebooks, cameras and microphones made their way around the Washington locker room?
It has been that way since Rivera came to town. Given that his team racked up 19 losses during those two COVID-19 shutdown seasons, there would have been ample opportunities for disgruntlement to surface in at least a few of those losses.
This is new ground for Rivera in Washington, where the poison always seems to rise to the top.
Hear Thom Loverro on The Kevin Sheehan Show podcast.