By Michel Lam, August 21 2022
Meiling Liu is an art curator who recently brought us The Art of Banksy in London. This sprawling event carefully selected pieces across the most important 20 years of that artist's career — 1997 to 2008. The exhibition spread out over an enormous warehouse and included a variety of mediums, a difficult proposition for any curator.
The Art of Banksy, an unsanctioned retrospective made up of privately owned pieces, has pushed Liu's profile higher than ever before. So we caught up with her to ask about the importance of this mysterious street artist, as well as her own experience designing the way people engage art.
What makes The Art of Banksy such an interesting exhibit and a powerful way to understand this artist?
Banksy's identity is secret, but his work is some of the most well known of a generation. That makes him very unique. And The Art of Banksy is the largest touring collection of the artist's work in the world. Plus, the pieces are all from private collectors, which means all the many works are actually on loan.
It's an enormous undertaking. But it's all well worth it.
The sheer size of the exhibit, and its focus on Banksy's most iconic period, makes it the best way to understand this artist. That's not to mention that Covent Garden is a perfect venue, with over 12,000 square feet of warehouse space to deliver this prolific artist's many prints, collaborations, and more.
As a curator and exhibit designer, how do you approach a show this big?
It's always important to tell a story. The exhibition begins with a timeline, and that lets visitors get their bearings. Then, they are able to walk through the enormous selection of limited edition prints. These give visitors a real taste of Banksy as an artist, both his aesthetic as well as his point of view, which is often humorous and subversive.
Next, the "Cultural Collaboration" section shows us some of the work he collaborated on with others. It also contains material from some of his more famous stunts.
By breaking the exhibition into these areas, it helps keep the visitor from becoming overwhelmed, and it contextualizes the work as you go. By the end of it, you'll enjoy 20 years worth of work from one of the leading artists of today.
Do you think this exhibition shows something new about Banksy?
Absolutely. The Art of Banksy gives you a fresh look into these important years of his work. Of course, we have limited edition prints of his most iconic images he's conceived, and those are important. But we also have fairly unknown masterpieces, too.
In the end, to understand an artist, you need to have a full view of their career. The highlights alone only tell you part of the story. Flower Thrower is a moving symbol of a time and an entire approach to life and politics. But behind every Flower Thrower, there are countless other works, some of them as powerful as anything else he made.
Consider Brace Yourself (2010), a large work on canvas. This work of art was created after Banksy shot his documentary Exit Through the Gift Shop in 2010, when he found out that there was a band of the same name. To get them to agree to change their name, he gifted them this enormous painting of the Grim Reaper riding a bumper car. The band changed their name to Brace Yourself, and the documentary went on to become a major success.
That kind of story can be lost when we only focus on a few popular works.
Why do you think Banksy is such an important artist?
Banksy's ability to capture the imagination of the public is unlike almost any other living artist. Girl with Balloon is a perfect example. It was voted the UK's most beloved work of art for a reason. People connect to these images, and they feel the desire of the artist for a different world.
It also can't be downplayed how much Banksy's anonymity has allowed him to play with the idea of the artist and the cult of the "big name" blue chip artwork. A lot of his pieces have critiqued the capture of the artworld by the wealthy few, and that's also made him a kind of folk hero. After all, there are many people who love art today but simply don't feel like they have access to it, and Banksy gives them a voice.
Coming from a street art background, he also has an undeniable edge. His work is not only confrontational in its imagery, as in Napalm (2004), but also with his actual medium. Many of his works are technically illegally made, as they "deface" private property.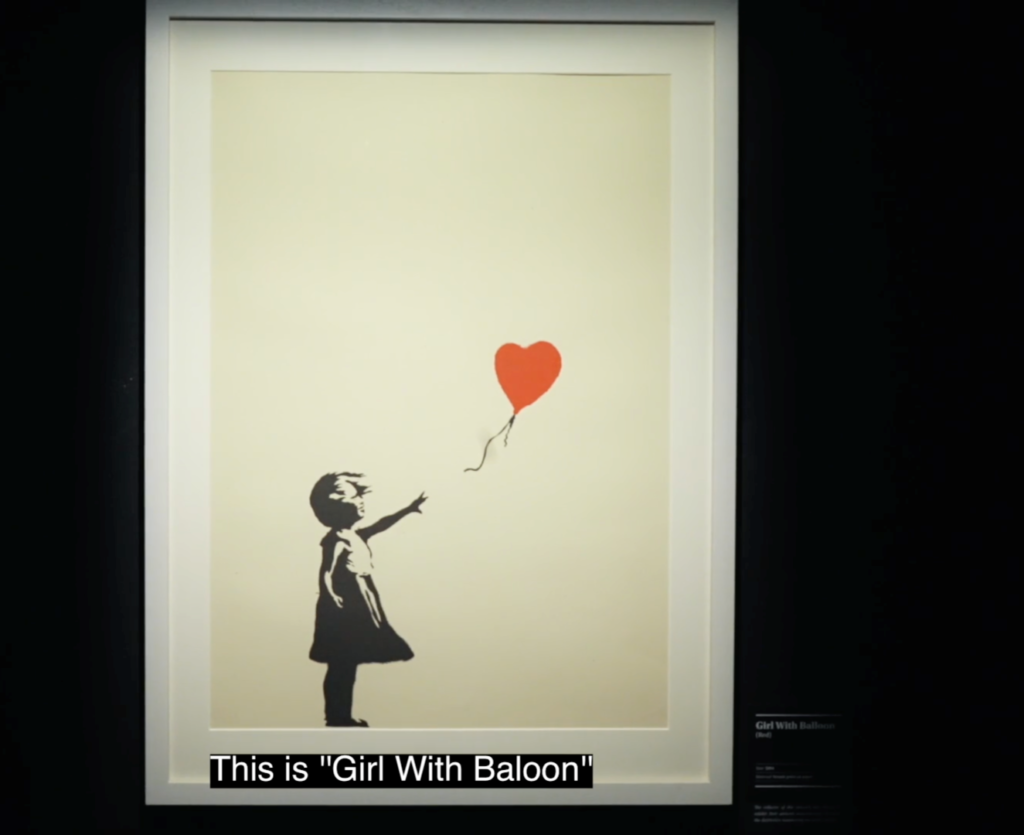 We have some of these in our exhibit, including one of the oldest intact Banksy murals The Painter (2008). It depicts a painter assumed to be the Renaissance master Diego Velázquez painting a tag of Banksy's name. Luckily, the owner of the wall decided to preserve the work, rather than paint over it.
You don't get that kind of story with very many other artists!
This is an amazing opportunity for you to show your curatorial strengths. Banksy is such a major name, and the UK is the epicenter of his career. So where do you think you'll go from here?
When I am done with The Art of Banksy, I'll continue curating exhibitions here in the UK, which is really a second home to me. Since I earned my master's degree from the Institut d'Études Supérieures des Arts in Paris, I have mostly worked in this country. It's where I see my career continuing to grow.
Most of all, however, I'm excited to continue to develop exhibitions in London that expose people to great art. There is really no shortage of projects I have in mind to bring unbelievable experiences to this city. The world of art gives you so much room to explore and grow your knowledge, and it is fantastic to share those discoveries with the public.