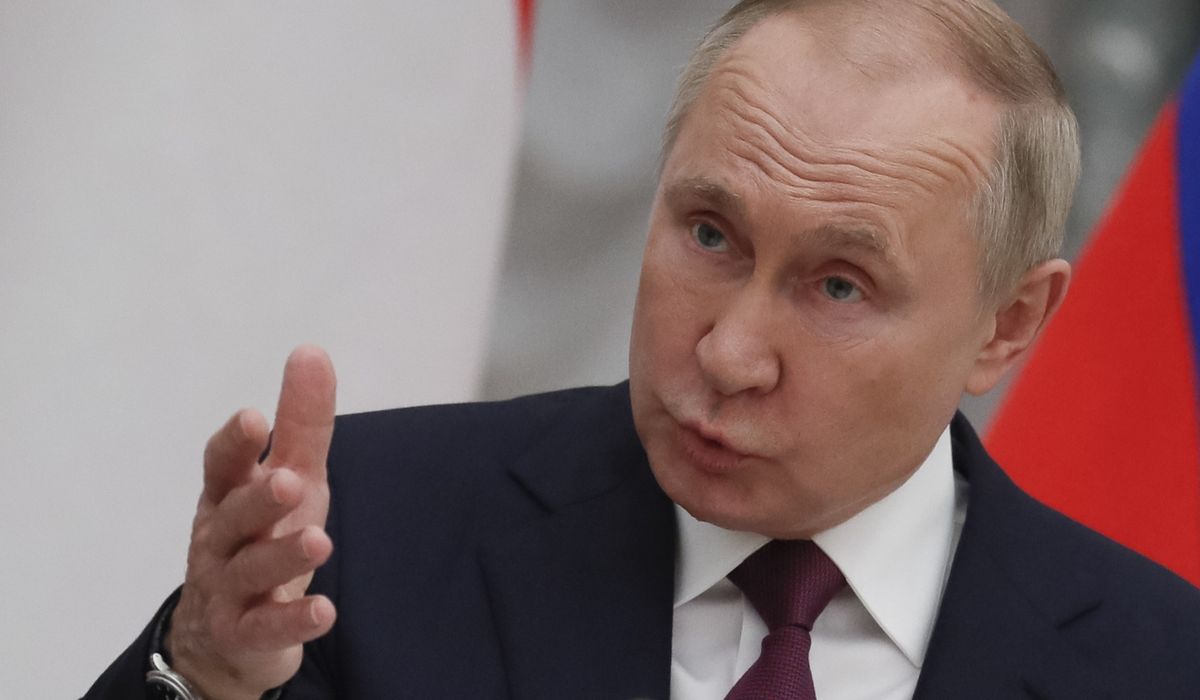 Russian President Vladimir Putin accused the U.S. and its allies of dismissing the Kremlin's "fundamental concerns" about the military standoff across Eastern Europe, while Ukraine announced plans Tuesday to dramatically expand the size of its armed forces, adding fresh uncertainty to the slow-burning crisis.
As Mr. Putin aired his grievances with the West, Russian Foreign Minister Sergey Lavrov held another phone call with Secretary of State Antony Blinken in an effort to head off a major conflict in the heart of Europe. It marked the Russian leader's most substantial comments on Ukraine in more than a month and the first since the Biden administration and NATO provided written responses that largely stiff-armed the Kremlin's call for legally binding security guarantees. Mr. Putin made clear his mounting frustration with NATO's refusal to rule out extending membership to Ukraine and other former Soviet states as he demanded.
At a press conference in Moscow with visiting Hungarian Prime Minister Viktor Orban, Mr. Putin condemned NATO's decision to place missile launchers in Romania and Poland. He called the move "a threat to Russia."
"We haven't seen adequate consideration of our three key requirements concerning the prevention of NATO expansion, the refusal to deploy strike weapons systems near the Russian borders as well as the return of the military infrastructure" to NATO's borders before a major eastern push in the late 1990s, Mr. Putin said.
"Let's imagine Ukraine is a NATO member and starts these military operations. Are we supposed to go to war with the NATO bloc? Has anyone given that any thought? Apparently not," he said.
He accused the U.S. of pretending to care about Ukraine's security as part of a larger strategy to hurt Russia.
The defense of Ukraine is "a secondary priority for them," Mr. Putin said. "But their main job is to deter the development of Russia, to hinder the development of Russia. And in this sense, Ukraine is just a tool."
Russia seized Ukraine's Crimean Peninsula without a Western military response in 2014. Moscow continues to back breakaway separatist movements in eastern Ukraine that are battling the Western-backed government in Kyiv.
Now staring down more than 100,000 Russian troops along its border, Ukrainian President Volodymyr Zelenskyy signed a decree to add 100,000 troops over the next three years to the nation's military, which currently has about 250,000.
"This decree [was prepared] not because we will soon have a war … but so that soon and in the future there will be peace in Ukraine," he told the parliament, according to Reuters, as he appealed for unity to lawmakers and Ukrainian citizens.
"We must be united in domestic politics. You can be in opposition to the government, but you can't be in opposition to Ukraine," Mr. Zelenskyy said.
British Prime Minister Boris Johnson was in Kyiv on Tuesday and stressed solidarity with Ukraine. French President Emmanuel Macron was reportedly headed to Moscow for more direct talks with Mr. Putin. Mr. Johnson said the show of determination in Kyiv would cause the Kremlin to think twice about military action and the odds of a quick victory.
"I think that perhaps the single most useful thing we can all do is get over to the Russian public, to citizens in Russia, thinking about this possibility [of war], the reality that the Ukrainian army will fight," Mr. Johnson said.
In another sign of uncertainty over Mr. Putin's intentions, the White House announced that it was sending its top cyberdefense expert to Brussels for consultations with NATO officials. The alliance fears Russia could use cyberattacks and disinformation programs to destabilize Ukraine and retaliate for any Western sanctions after an invasion.
Anne Neuberger, deputy national security adviser of cyber and emerging technologies, was on her way to Europe as U.S. intelligence agencies warned that Kyiv may be more vulnerable in cyberspace than on a physical battlefield.
A Russian retreat?
Meanwhile, some leading Russia scholars say Mr. Putin ultimately will back down from a major invasion because of the massive destruction and loss of life that would result, not to mention the punishing sanctions that President Biden and other NATO leaders are promising. Still, the scholars cautioned that the Russian leader and his inner circle are unpredictable and may choose war if they feel they have no option.
"We're dealing with very unstable people," journalist and veteran Russia watcher David Satter said in a conversation with The Washington Times on Tuesday. "They are full of complexes. They don't worry about shedding blood. They definitely feel the insecurity of their own position and are tempted to think war might strengthen their position."
The movement of fresh U.S. troops to Eastern Europe could exacerbate tensions. The Pentagon last week put 8,500 troops on "high alert" for possible rapid deployment. Mr. Biden said late last week that some forces would soon head to the region.
Mr. Satter said Russian leaders "will create a hysterical scene" when more U.S. and NATO forces move into Eastern Europe.
"They will start screaming from every rooftop that this is threatening Russia. But they aren't stupid, and they know that it isn't," he said. "In fact, they know perfectly well [that] the United States has no intention of using its own troops in defending Ukraine or Ukrainian territory. But the best defense is a strong offense. And [the Russians] are going to preemptively create conflict, especially verbal conflict, over anything the U.S. and NATO decide to do in their own defense."
That verbal conflict was on clear display this week. U.S. and Russian ambassadors exchanged sharp words Monday at a U.N. Security Council session, which was held over Moscow's objections. Russia's ambassador accused Washington of escalating the fight and seeming to be rooting for war. U.S. Ambassador Linda Thomas-Greenfield said the Kremlin's military mobilization near Ukraine was the main trigger for the crisis.
A day after that showdown, Mr. Blinken and Mr. Lavrov held the latest in a regular string of phone conversations seeking to defuse the crisis.
Mr. Blinken "emphasized the U.S. willingness, bilaterally and together with allies and partners, to continue a substantive exchange with Russia on mutual security concerns, which we intend to do in full coordination with our partners and allies," State Department spokesman Ned Price said in a statement after the call. He once again warned Mr. Lavrov that military action against Kyiv "would be met with swift and severe consequences."
Mr. Blinken, who spoke with NATO Secretary General Jens Stoltenberg and European Union foreign policy chief Josep Borrell later in the day, "urged immediate Russian deescalation and the withdrawal of troops and equipment from Ukraine's borders," Mr. Price said.
A senior State Department official briefing reporters on the call said Mr. Blinken made the argument that, since Russia has insisted it does not want a war over Ukraine, it should pull back its forces.
"If President Putin truly does not intend war or regime change, the secretary told Mr. Lavrov, then this is the time to pull back troops and heavy weaponry and engage in a serious discussion," said the official, speaking on background.
White House press secretary Jen Psaki told reporters that Mr. Biden was open to more one-on-one talks with Mr. Putin if that could help clear the air and lower the tension.
"The president remains certainly open to that if there's a determination that that is the appropriate and most constructive step moving forward," Ms. Psaki said while insisting that Russia was the "aggressor" driving the crisis.
Meanwhile, Kremlin spokesman Dmitry Peskov confirmed that Mr. Putin, despite his heated remarks, was still formulating his response to the written proposals from the U.S. and NATO. Mr. Peskov said U.S. media reports that a Russian response had been delivered were erroneous.
The appearance of Hungary's Mr. Orban in Moscow underscored Russia's hopes to divide and conquer as the Biden administration has tried to keep its NATO allies in line. Hungary, a member of NATO and the EU, has had far warmer ties with the Kremlin than many other European states. Mr. Orban made a pitch for a diplomatic resolution to the Ukraine crisis that would take into account Russia's grievances.
"I got convinced today that the existing differences in positions can be bridged and it is possible to sign an agreement that would guarantee peace, guarantee Russia's security and is acceptable for NATO member states as well," Mr. Orban said.
• This article is based in part on wire service reports.