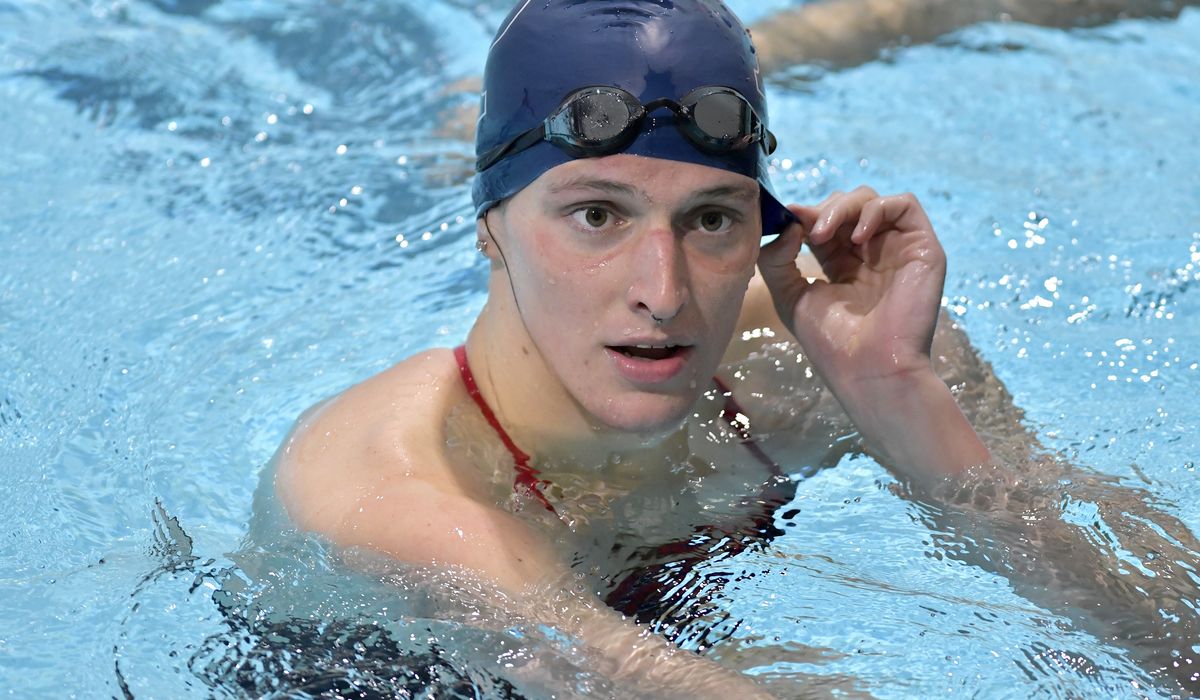 Not everyone at the University of Pennsylvania appears to be paddling in the same direction when it comes to transgender swimming standout Lia Thomas.
Two days after the Penn women's swim and diving team issued a statement expressing "our full support for Lia in her transition," 16 anonymous teammates urged the university not to challenge USA Swimming rule changes expected to prevent Thomas from competing in the end-of-season championships.
"We, 16 members of the Penn Women's Swimming Team and our family members, thank USA Swimming, for listening to our request to prioritize fairness for biological women in our elite competitions," said the Thursday letter posted on Swimming World. "We ask that Penn and the Ivy League support us as biological women, and not engage in legal action with the NCAA to challenge these new Athlete Inclusion Policies."
The letter to Penn and the Ivy League, conveyed by Olympic swimming champion Nancy Hogshead-Makar, came as further evidence of a team schism as anonymous female swimmers defy the university by crying foul on Thomas's record-smashing season.
They have done so despite what they described as threats to their team status as well as their future professional careers.
"We have been told that if we spoke out against her inclusion into women's competitions, that we would be removed from the team or that we would never get a job offer," said the letter. "When media have tried to reach out to us, these journalists have been told that the coaches and athletes were prohibited from talking to them. We support Lia's mental health, and we ask Penn and the Ivy League to support ours as well."
USA Swimming, the national governing body, posted Tuesday an updated transgender policy that tightened the standard for male-to-female elite athletes, requiring them to keep their testosterone under 5 nanomoles/Liter in serum for at least 36 months before competition.
By all accounts, Thomas would be unable to meet the criteria, given that she began transitioning about two-and-a-half years ago, fueling speculation that the university may seek an exemption for the 22-year-old senior ahead of the NCAA Division I women's swimming championships.
In their letter, the 16 Penn swimmers asked Penn to "recognize the importance of providing fair competition and safe spaces for its biological female athletes."
"Further, we ask that Penn and the Ivy League refrain from suing the NCAA, or try to interfere with or weaken these new Athlete Inclusion Policies, that they be allowed to stand, so that we are able to finish our swimming season with distinction and pride," they said.
The Washington Times has reached out to Penn for comment.
"We have trained up to 20 hours a week, swimming miles, running & lifting weights. To be sidelined or beaten by someone competing with the strength, height & lung capacity advantages that can only come with male puberty has been exceedingly difficult."

— Bernard Lane (@Bernard_Lane) February 3, 2022
USA Swimming issued its revamped policy after the NCAA announced last month that it would defer on a sport-by-sport basis to the national sports federations on transgender participation in women's athletics.
Previously, the NCAA only required male-born transgender athletes to undergo testosterone suppression for at least a year prior to competition, which Thomas has done.
Penn Athletics released a statement Tuesday in support of Thomas from the women's swimming team after an anonymous swimmer criticized the university's handling of the situation on Fox News.
"We value her [Thomas] as a person, teammate, and friend," said the Tuesday statement, as reported by the Daily Pennsylvanian. "The sentiments put forward by an anonymous member of our team are not representative of the feelings, values, and opinions of the entire Penn team, composed of 39 women with diverse backgrounds,"
Thomas holds some of the nation's top times this season in the 200-, 500- and 1,650-yard freestyle, and would be a top contender in the Ivy League Championships on Feb. 16-19 at Harvard, as well as the NCAA championships on March 16-19 in Atlanta.
"The Penn Women's Swimming Team has over 40 women, but only 18 of us are chosen to compete in the end-of-year culmination of our work: the Ivy Championships," said the letter from the 16 swimmers. "Most important to us is that Lia's inclusion with unfair biological advantages means that we have lost competitive opportunities. Some of us have lost records."