Jackie, a Vietnamese Dev of meme Coin VoteTrump2024 claimed that he is a Trump's SuperFan and is willing to do whatever it takes to support Trump's Campaign in 2024.
VoteTrump2024 is a community-driven meme token that aims to become the future of the Metaverse. It will include a Games, DEX platform, NFTs, an NFT Marketplace, and so much more.
Despite the ongoing bear moves we are currently seeing in the crypto market, with thousands of crypto projects trying to go viral, memecoins have increasingly gained the attention of mainstream news when Elon Musk started tweeting about Dogecoin. While other alt projects aim to provide blockchain solutions, memecoins are promising humor, hype and a good time and profit. Currently, meme coins account for about 2% of the total crypto market cap, with a total Market Cap of about $39.99 billion.
VOTETRUMP2024 is the latest entry into the meme coin ecosystem, and unlike other regular meme coins, VOTETRUMP2024 combines real application with good humor. It's a meme coin with an active community key on a clear mission to introduce popular cryptocurrency concepts to the rest of the world. The project introduces holders to cutting-edge concepts such as participation rewards, NFTs, decentralized exchanges, Games, and much more.
VOTETRUMP2024 understands that the concept of a successful project coin is Marketing! Thus, it has been designed to welcome community interest. The token is governed by code built on decentralized infrastructure that enables independent and transparent applications for users. It has a comprehensive interface; and unlike some decentralized applications, it is simple to navigate.
Launched in November 2021, Votetrump2024 aims to become a truly decentralized meme project, cutting the edge between meme coins, DEXs, NFTs, and Games. It provides users with a pretty little "trump" meme token that serves as the ecosystem's main currency, which can be earned by playing different game modes and participating in many other activities.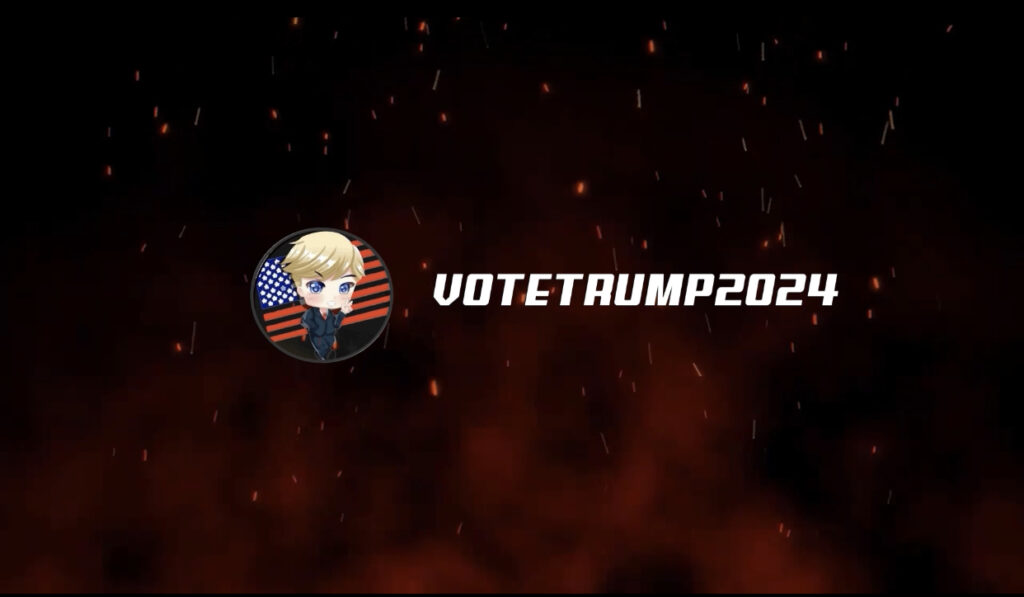 Votetrump2024 Metaverse Would Leverage the Best of Gaming, NFT and DEX
In line with its mission of introducing popular cryptocurrency concepts to the rest of the world, the votetrump2024 community has taken a few actions to ensure a proper understanding of what it entails to its users.
The creation of Votetrump2024 is the first step in building a seamless metaverse. As it expands, it will hasten the reaction of P2E games that will combine NFTs and marketplaces with productive concepts.
Several options for earning and using Votetrump2024 tokens include, but are not restricted to:
● TRUMPGAME
Play-to-earn (P2E) NFT games are the latest buzz in the crypto space right now — integrating gaming into cryptocurrency. The blockchain gaming industry and NFT space have presented users with numerous ways to earn tokens while playing games. The community has decided to incorporate this trend by introducing the best P2E NFT gaming into its ecosystem. The Last Warrior — a multiplayer online battle arena (MOBA), a mobile game where players can earn tokens.
Playing this game, players get to choose between survival or team mode. In battle, players can farm creeps, kill bosses to upgrade characters and skills to win the game. The votetrump2024 Token will be earned by playing different game modes and participating in. Players also get to earn NFT items such as Characters, Skin, Weapon, etc., by playing the game, opening lucky chests and then selling them on the Marketplace.
● TRUMPSWAP
Votetrump2024 knows exactly how to keep their users productive and make them earn passive income, not just by holding but by staking. Fulfilling its DEX integration mission, the community-driven platform introduces TrumpSwap — the next evolution in DeFi platforms. TrumpSwap Token is the staking platform with an APY of 297% with minting and burning function. This Token will be used to purchase and sell NFTs on TrumpSwap's future NFT exchange.
The ecosystem offers an advanced crypto trading option allowing you to trade against any trading pair on the TrumpSwap exchange —having its own farm. This meme token brings a unique application to the NFT marketplace of Trumpswap and will be utilized to trade NFTs on the platform.
The VoteTrump2024 Token announces Presale to go Live on Dxsale soon!
Will VoteTrump2024 Token be the next Shiba Inu to outperforms other memecoin?
Website: http://vtrump2024.com
Telegram: https://t.me/+n3MyjMwPLjJlMDYx
Twitter: https://twitter.com/VOTETRUMP2024_t