ARLINGTON, — Bartel Union, singer of the viral hit "Western Feel" is in jail facing multiple felony charges after what police are saying is "The wildest bank robbery we've ever seen."
On, Friday August 22, 2022 at 3 p.m., 36-year-old Bartel Union robbed three banks in a two-block radius in under ten minutes. The suspect left the area with an "extremely large amount" of money. Security guards at each bank were left hogtied. Tellers at each bank called the police shortly after the country singer left. One female teller was quoted as saying, "A very handsome and polite man just robbed our bank."
Police dispatch put out a description of the truck the suspect left in, according to Arlington Police. Shortly after, a sergeant spotted a vehicle matching the description travelling south at a "high rate of speed."
The sergeant tried to pull the truck over and Mr. Union instead fled town limits and "lead every police unit in the station on an off-road chase in the surrounding hills, for approximately five hours."
Three police off-road units were totalled in the pursuit.
"We just couldn't get him. Whenever we were close he would pull off another manoeuvre. All four wheels of the suspect's truck left the ground on multiple occasions. I've never seen someone get airborne so often. His shocks must be custom," quipped the officer.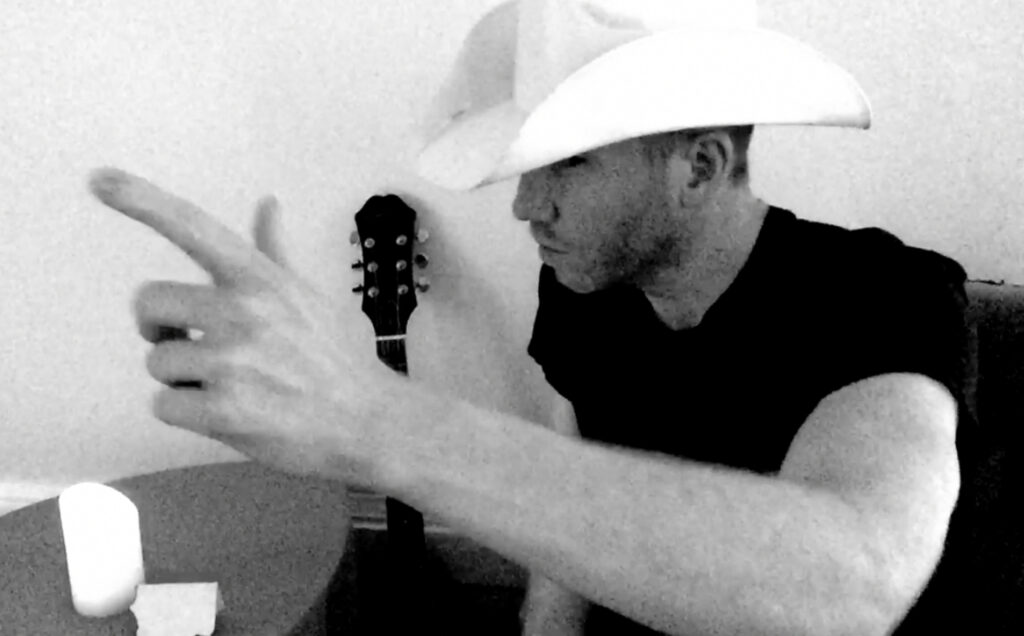 Air support in the form of two police helicopters and a traffic plane were dispatched. "When Bartel ran out of gas, we knew we had him. But he still didn't surrender for another hour. We weren't sure what he was waiting for, there was nowhere he could go. Later we found out he was making a TikTok post. Then Bartel stepped out of the vehicle and was cooperative. We did a felony takedown and took the suspect into custody, and Bartel said "Sorry fellas, I needed money to cut a new record and get a new hat."
Union was arrested and the stolen cash was found behind the seats of the vehicle stuffed into an empty guitar case.
The country music singer was escorted by a ground and air team to an undisclosed police station and interviewed by detectives and FBI agents. Bartel Union is charged with three counts of aggravated robbery which is a first-degree felony.
Police did not find a gun and witness accounts are contradictory as to whether or not Bartel Union was armed.
Police said they expect the FBI to take Mr. Union into federal custody. As of now, Bartel is currently being held in an undisclosed jail location on a $3 million bond.
An officer reported that "it's unusual to not publicly disclose the location of where a suspect is being held but there was a crowd of Bartel Union fans amassing outside of the police station chanting for the singer to be freed. Presumably after, seeing the TikTok post Bartel made." The officer added on condition of anonymity "It's too bad. My wife and I love his music and would have loved to hear a new album. Not sure he'll be able to record that in prison."