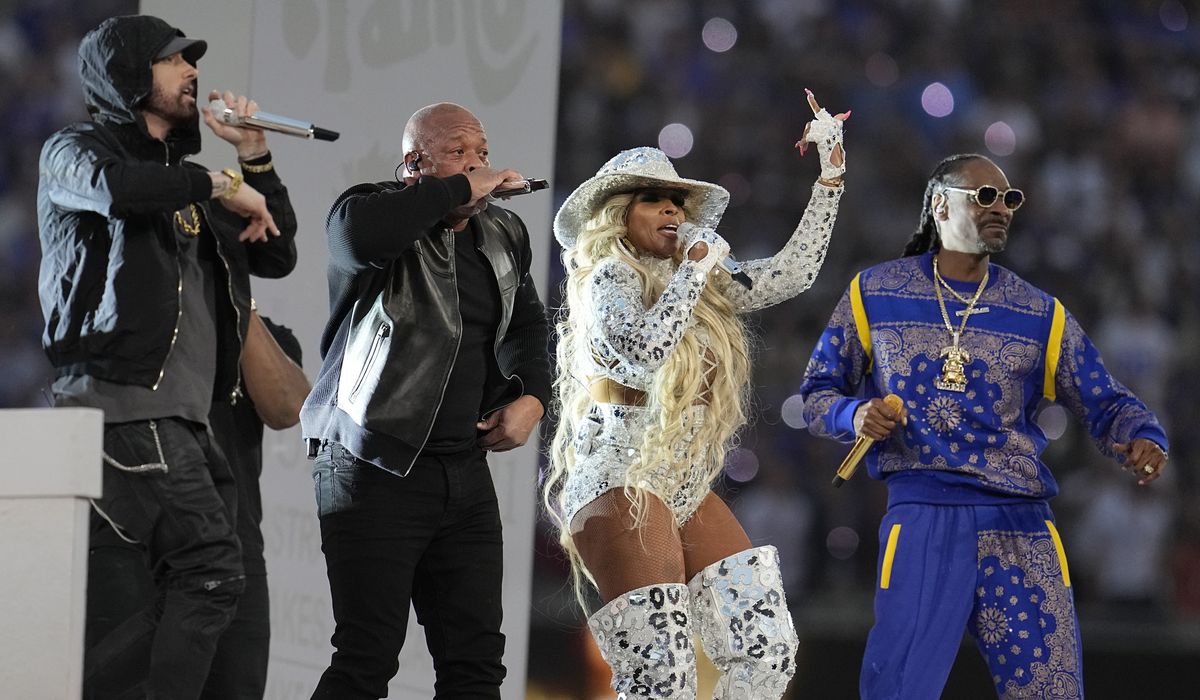 Leading up to Super Bowl 56, most of the negative attention surrounding the halftime show was about Snoop Dogg for his recent anti-police song.
But it ended up being two of the other performers — Dr. Dre and Eminem — who ruffled some feathers and reportedly bucked the NFL during the halftime show.
In the final song of the performance, Dr. Dre repeated an anti-police lyric in his song "Still D.R.E."
"Still f*** with the beats, still not loving police," reads the lyric in Dr. Dre's hit 1999 single. Dr. Dre did not say the expletive during the halftime show, but he kept in the mention of police.
The NFL told Eminem he couldn't kneel in support of Colin Kaepernick. He did anyway.

They told Dr. Dre he couldn't sing the lyric "still not lovin police."

He did anyway. Should be a fun day over a Fox News tomorrow lol. #HalfTimeShow pic.twitter.com/FPaySxgDMz

— Chuck (Taylor's Version) (@Jamie_Maz) February 14, 2022
According to a report from Puck's Eriq Gardner, the NFL went back and forth with Dr. Dre about some of his lyrics he was planning on performing during the halftime show, including the police line in "Still D.R.E."
The NFL also reportedly told Eminem he was not allowed to kneel in a nod to former 49ers quarterback Colin Kaepernick during the show, according to Puck. NFL representatives then told the New York Post that the report was false, adding that the league's players have been allowed to kneel since 2016.
Eminem, like Dr. Dre with his lyric, kneeled anyway at the end of his song "Lose Yourself."
Eminem taking a knee for Kaepernick? pic.twitter.com/T4p3vOHBUC

— The Recount (@therecount) February 14, 2022