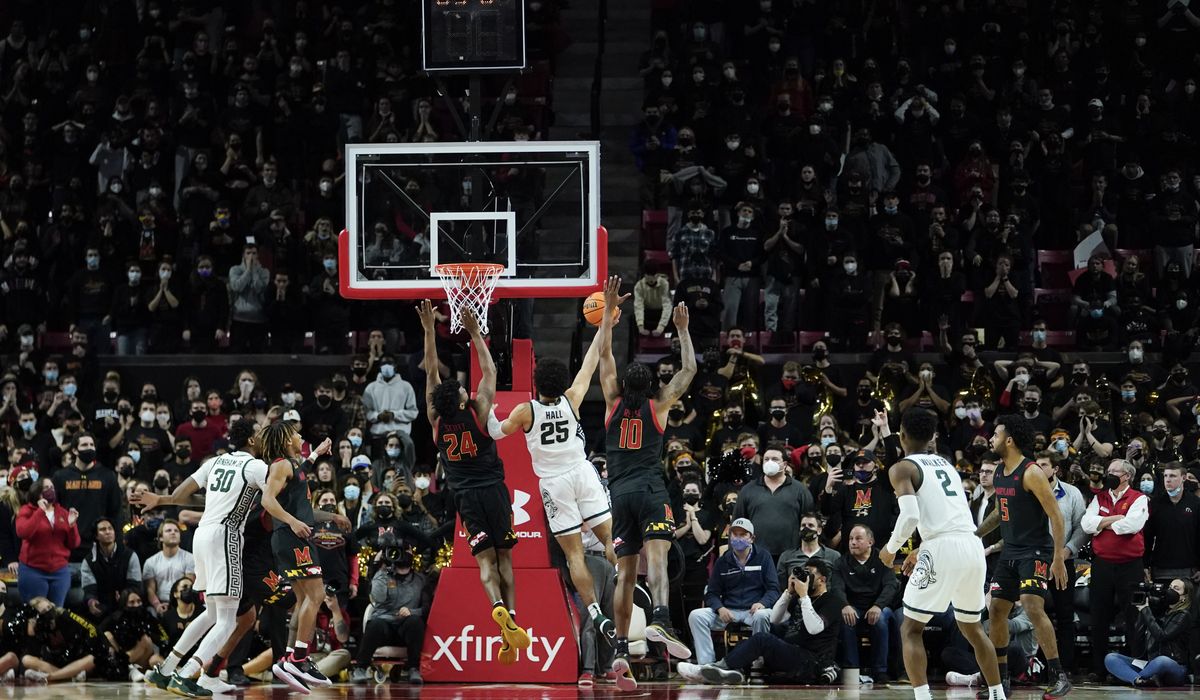 COLLEGE PARK — Michigan State forward Malik Hall made a driving layup with 1.9 seconds remaining, and a frenetic Maryland comeback effort in the final minutes against the No. 13 Spartans fell short Tuesday night, 65-63.
Hall led all scorers with 16 points and that layup — the only Michigan State field goal in the final six minutes.
"We thought they were gonna get into a side ball screen and it became a kind of a roll and replace type of action," said Maryland interim head coach Danny Manning of the game-winning shot. "Hall made a good read. He put his head down with his right hand and got to the basket and made a tough shot."
"I thought we did a decent job of trying to contest it, but he got to his spot."
The basket capped a final four minutes filled with reviews, turnovers, and few made shots from the field.
Maryland forward Hakim Hart would sink two foul shots after a Spartans turnover to cut the lead to one, 59-58. Donta Scott would then foul MSU's Julius Marble, who hit two from the line himself. On Maryland's next possession, Fatts Russell drilled a three from straight-away on a kick out from Scott to send an engaged Xfinity Center crowd into a fever pitch and tie the game at 61.
Russell and Scott tried the same hook-up again two possessions later, but the Spartans defense had it read. Russell would hold the ball until spotting Eric Ayala open on the far wing, but his shot was too strong off the back of the rim.
Russell — who else — would get the ball back for the Terps after taking a charge from the Spartans' Julius Marble. He'd give it away, though, 33 seconds later after the ball hit his foot as he tried to go up for a lay-up to break the tie. A final heave by Russell missed after Hall's layup.
Ayala led the Terps with 15 points. Russell would finish with 10, with 8 of those coming in the second half, and Scott added 14 for Maryland (11-11, 3-8 Big Ten).
Ayala only got one clean look at a three all night — his first and only make of the game two minutes in. From that point on, any time No. 5 would come off of a screen for a look from the perimeter, a Spartan was there almost instantly.
"I think a couple of those threes I could have got into the lane or found a teammate or something," Ayala said. "I mean, even our last game, you know, Indiana had kind of been doing the same thing. I think I just gotta mix it up a little bit more instead of settling for some of those threes."
Once again, the Terrapins put up a strong effort against a ranked team. They're now 2-2 against those opponents, but have been able to find a different gear late in those games to stay close as opposed to fading down the stretch as they did Saturday against Indiana.
"Effort, energy, and juice. Being able to feed off the crowd when we were able to get stops and deflections was really big for us," Manning said. To that end, Maryland forced eight second-half turnovers after Michigan State only committed three in the first half.
"The guys just made a decision in those timeouts and throughout the course of the game to get stops and to fight."
Russell epitomized that fight, playing with an injury to his left wrist from the Indiana game that he had wrapped up in tape and a forearm sleeve. Manning as recently as yesterday wasn't sure if the Rhode Island transfer would be able to go.
"They told me if I was favoring it they were gonna pull me," Russell said. "I just felt good out there. I fell on it one of those plays during the game, but for the most part I felt good."
"I know he was playing and in some discomfort. I can see it on his face during the timeouts," Manning said.
"To see him out on the court does not surprise me, because that's just the type of young man he is."
The teams traded baskets for most of the first ten minutes, with the Spartans able to spread the scoring wealth throughout their lineup. Maryland began to catch fire on the back of Scott, who started 0-for-5 but wasn't deterred.
Scott came back with three-straight made buckets for the Terps, which helped key an 8-0 run and a 17-14 lead, Maryland's first since netting the opening bucket of the game.
That slow scoring trend would continue for the rest of the half. At one point — 3:32 remaining in the period — both teams were an identical 9-of-24 from the floor.
The Spartans (17-4, 8-2) would gain some separation with a 10-0 run coupled with four Terrapin turnovers in the final four minutes of the first half. After hanging in with the Spartans to the tune of five lead changes and four ties, Maryland didn't score a point for nearly the final five minutes and trailed 35-25 at halftime.
The Spartans picked up where they left off, with Joey Hauser scoring 5 quick points in just as many minutes to match his first-half total and push the lead to 15.
Maryland, however, answered with an immediate fury. Nine-straight points in two-plus minutes cut the deficit to four, 42-38. Michigan State would then always seemed to find an answer, including from forward Marcus Bingham Jr., whose seven-foot frame dropped two three-pointers in at key moments to stem the tide.
A 15-point, second-half lead waned and disappeared for the Spartans, but Maryland never led after halftime.
"It's a lot of things that we could like slice and dice," Ayala said, "but as a team, I think we fought hard and something we could build off of."