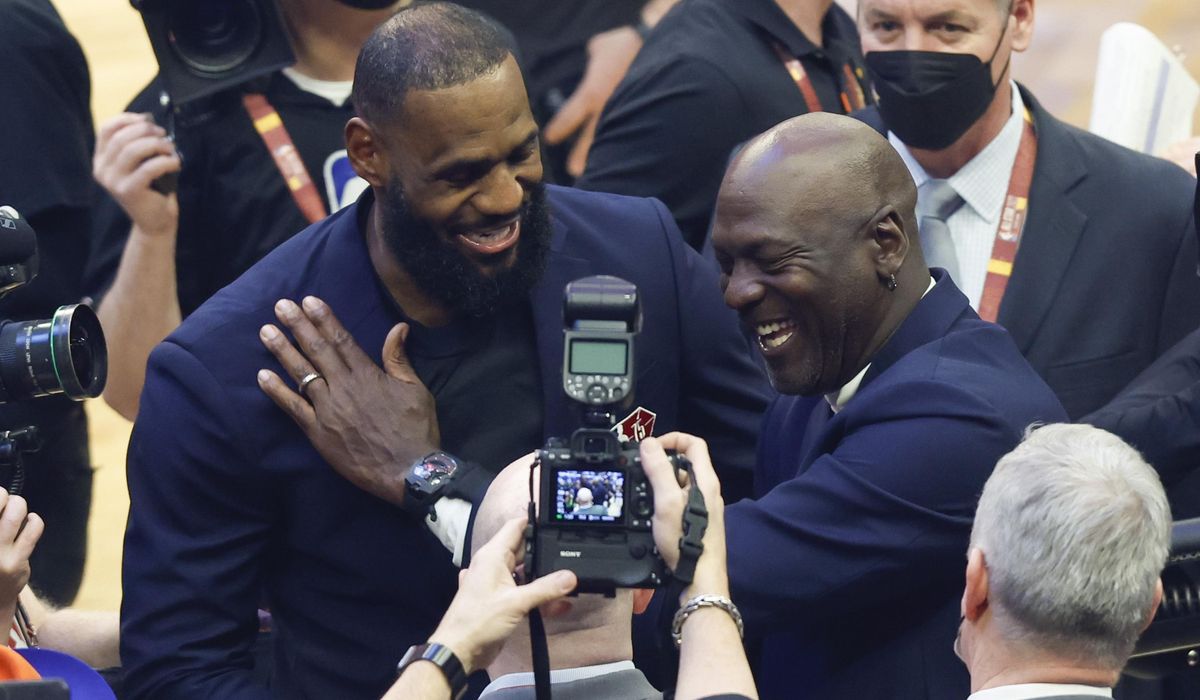 The talk after the NBA All-Star Game couldn't just be about Stephen Curry's 50-point performance. Of course not.
With LeBron James back in Cleveland for All-Star Weekend and Michael Jordan in attendance for the NBA's 75th anniversary celebration, it was only a matter of time before the "GOAT" debate took over the conversation.
Despite the intensity of the argument online, James and Jordan engaged in a warm embrace — something that would seem normal for two NBA stars but for the best two players of all time was a rare sight.
Michael Jordan and LeBron James share a special moment at the #NBA75 Ceremony.

Greatness. pic.twitter.com/wrRYwtGYzy

— NBA (@NBA) February 21, 2022
However, the hug didn't prevent fans on Twitter or the prognosticators on sports television Monday morning from relitigating the debate.
"The GOAT came. Not the phony GOAT, not LeBron. I never thought I'd see the night LeBron James got upstaged in his own house by the real king, by Michael Jeffrey Jordan," Skip Bayless said in a Twitter video.
"Michael Jordan is a smart man and is resigned to the fact that this was probably my last major NBA moment where I'm recognized as the GOAT, so I'm going to soak it all in," Nick Wright said on Fox Sports.
"Yesterday, in Cleveland, where Michael Jordan broke the heart of Cavs fans time and time again, and yet, who got the largest cheer?" shot back co-host Chris Broussard. "I was stunned. Michael Jordan got the largest cheer. LeBron James delivered Cleveland its first title in 52 years in any sport, and Michael Jordan gets the greatest cheers."
MJ pulled up and got louder cheers in Cleveland than LeBron. pic.twitter.com/1D7tiFjsZs

— gifdsports (@gifdsports) February 21, 2022
While it's unlikely that this debate will ever be settled, James did give a nod to the Bulls legend and six-time NBA champion at the end of the All-Star Game Sunday. With his game-winning shot, James, a four-time NBA title winner, knocked down a fadeaway that he said was "inspired" by Jordan.
"I did not want to lose the opportunity to shake the man's hand that inspired me throughout my childhood," James said.
"It's crazy that the game-winning shot tonight was a fadeaway, and it was inspired by MJ."
Almost 20 years apart, Michael Jordan and LeBron James hit almost identical fadeaway clutch shots in the All-Star Game 🔥 pic.twitter.com/1js2EaGmua

— ClutchPoints (@ClutchPointsApp) February 21, 2022