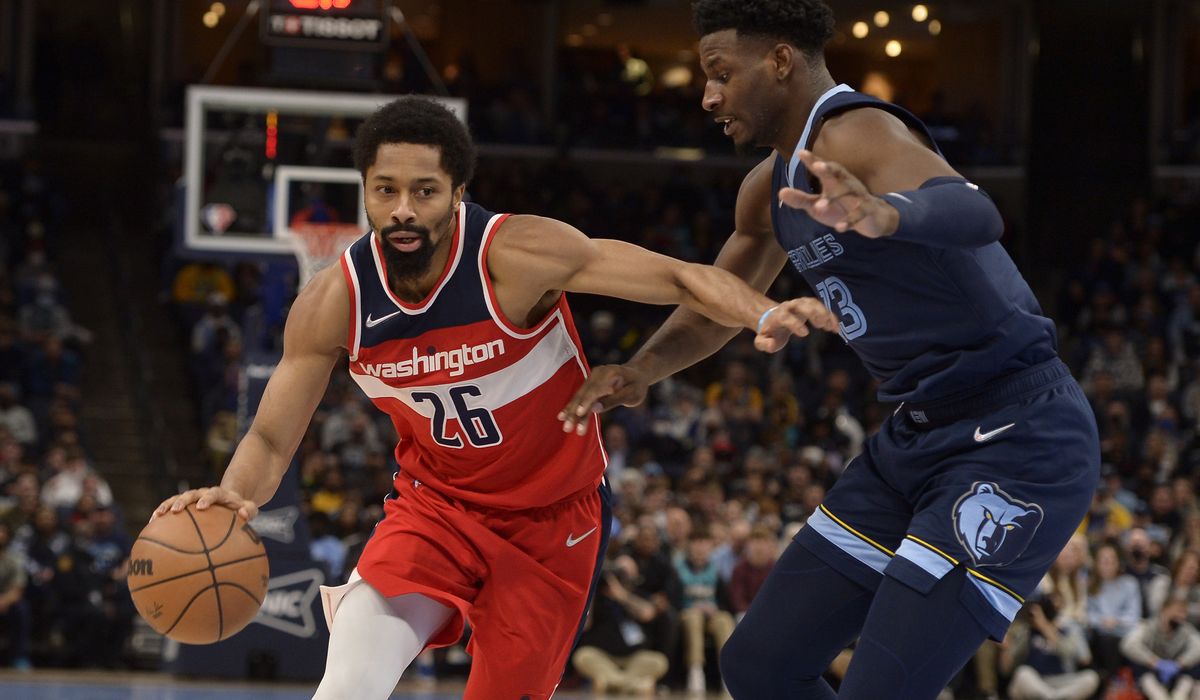 Spencer Dinwiddie paused for three seconds between sentences, taking just enough time to collect his words. After the Wizards' latest loss — their fifth straight — the point guard had just been asked how he tries to be a leader when things start to go sideways. Did he feel like it was necessary to say something to the rest of the group?
"It's an interesting situation," Dinwiddie said. "I spoke up a little early on."
He shrugged.
"It wasn't necessarily welcomed."
Months after arriving via sign-and-trade from the Brooklyn Nets, Dinwiddie is still trying to fit in with the Washington Wizards. As the 28-year-old point guard has discovered — and his answer only further indicated — that transition has been anything but smooth. Not only has Dinwiddie had to adjust quite a bit on the floor, but he's also had to adjust to the pecking order of the Wizards' locker room.
The Wizards are undoubtedly Bradley Beal's team — the three-time All-Star is the face of the franchise and as such, his voice often carries the most weight from a player standpoint. Dinwiddie, though, might not even be seen as the No. 2 behind Beal at this point. Kyle Kuzma and Montrezl Harrell, both acquisitions from the summer, have made a big impact in a relatively short amount of time with their strong-willed personalities — leaving Dinwiddie to find his place on the roster another way.
In the meantime, the Wizards (23-26) have a serious problem on their hands: They're in a free fall, now even out of the play-in tournament for the time being.
"I try to do whatever's asked of me," Dinwiddie said after Saturday's 115-95 loss to the Memphis Grizzlies. "At the end of the day, everybody has a role to play."
Perhaps Dinwiddie's voice would have resonated more within the locker room if he was playing better.
Since the Wizards' season began unraveling from a promising 10-3 start, Dinwiddie has shot only 36.1% from the field. Among players who have logged at least 500 minutes, that's the fourth-worst field goal percentage in the league — behind only Cleveland's Ricky Rubio, the Clippers' Brandon Boston Jr. and New Orleans' Devonte Graham.
The numbers are a significant drop-off from early on when Dinwiddie averaged 17 points and six assists per game on 42.9% shooting over Washington's first 13 games. The biggest contributor to Dinwiddie's dip in the months since is that the guard isn't hitting the 3 at nearly the same rate — with his percentages down from 37.7% (above league average) to 28.5% (bad). Over his last 28 games, Dinwiddie has averaged just 11.5 points per game.
Dinwiddie's fit alongside Beal has been awkward, too. Together, the Wizards have been outscored by 7.2 points per 100 possessions this season when Dinwiddie and Beal share the court. Dinwiddie often defers to Beal, while Beal's production has also dipped as his usage has taken a step back.
"It's not just Spencer," Wizards coach Wes Unseld Jr. said. "We collectively have struggled."
Unseld is right. Beal, for instance, had just a season-low 9 points on 2-of-11 shooting against the Grizzlies — and Beal's scoring average this season is down from 31.3 to 23.2 points per game.
But as the Wizards' season continues to implode, rumors have already started regarding that the Wizards may be willing to move on from Dinwiddie.
Bleacher Report reported recently that league executives believe the Wizards are open to dealing the veteran guard — despite Washington signing him to a three-year, $54 million contract just months ago. ESPN's Zach Lowe said on his podcast that Dinwiddie and Harrell are Washington's most likely trade candidates ahead of the Feb. 10 deadline.
So far, the Wizards' acquisition of Dinwiddie hasn't gone as planned.
.
"We just got to all own where we're at as a group," Dinwiddie said, "own who we are as individuals and go out there and do our jobs to the best of our abilities and not worry about the future and what may happen next."