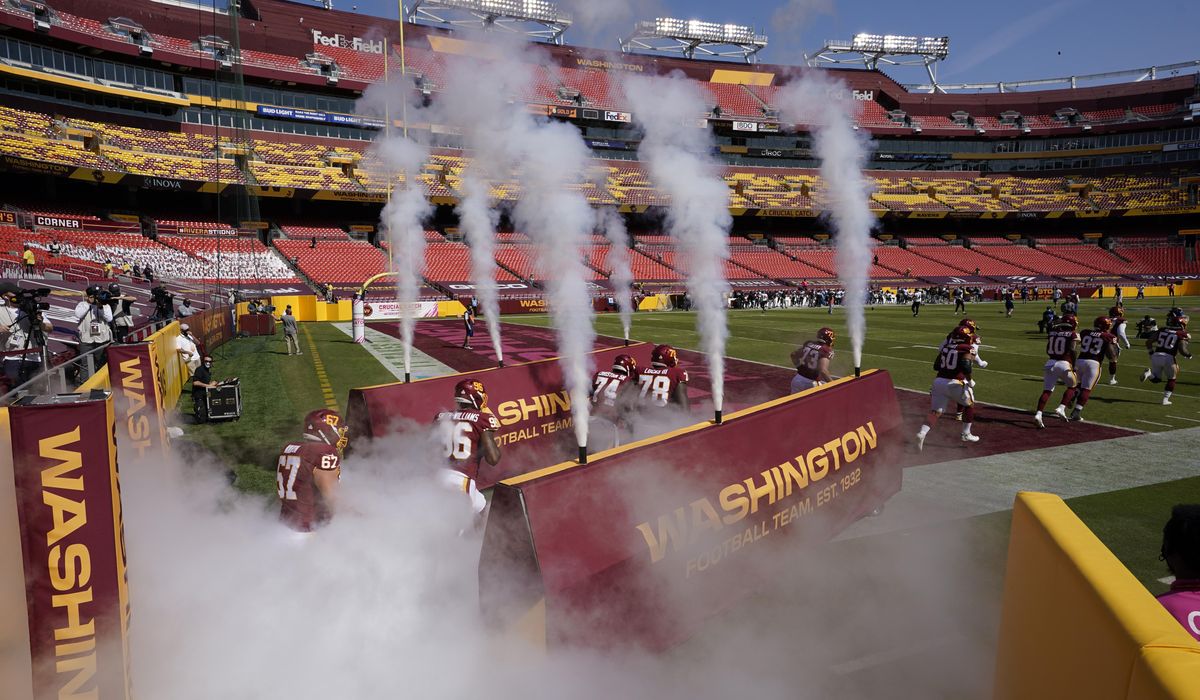 The guessing game about the new name of the Washington Football Team has moved into high gear, with less than a week to go before Wednesday's scheduled reveal.
Internet sleuths have scoured the web for any clue, finding possible crumbs while generating rampant speculation in the process. The latest buzz comes from Twitter user @LarryLegendBTW, who noticed the domain name "Commanders.com" was recently reassigned to a registrant who regularly deals with the NFL and proclaimed that because of that connection, the new moniker was confirmed.
Not so fast.
While Commanders could be the next name for the team, the tweet is not proof that Mr. Legend has cracked the case. He wrote that the new registrant, MarkMonitor, was the "same company NFL uses for all their domains," but that is not true.
As Sam Fortier of The Washington Post pointed out, several teams — including the Washington Football Team — don't use MarkMonitor to register their URLs. According to Sporting News, 26 of the league's 32 teams use MarkMonitor to hold their domain names. The Washington Football Team uses Go Daddy.
Real quick: NFL doesn't use MarkMonitor for all sites. Several team urls — including Patriots, Ravens and, uh, https://t.co/zauPG4S4JG — list other registrars. Look it up: https://t.co/esdqba4hVb.

New name could still be Commanders, but saying MM "= confirmed" is p reckless. https://t.co/BF81dGOhGr

— Sam Fortier (@Sam4TR) January 27, 2022
MarkMonitor is a company that tends to work with large corporate clients, technology expert Shawn DuBravac told Fox 5.
"There's two reasons you acquire a name," Mr. DuBravac said. "One is you acquire it for pure speculation, and you hold onto it. And two is you acquire it because you want to use it. And typically when you acquire it, and you want to use it, you're going to move it to where you're going to deploy it."
The Richmond Times-Dispatch reported Commanders.com was owned previously by a James Bond fan who ran the "Commanders Club," a group that paid homage to the film franchise. The domain, the paper reported, first changed hands in October 2020 — months after the team had announced its rebrand.
Elsewhere, "WashingtonCommanders.com" was registered on July 3, 2020 — the same day that Washington announced it would conduct a review of "Redskins," the team's now-former moniker.
"WashingtonCommanders.com" is registered under Moniker Online Services LLC, while "Commanders.com" is registered to MarkMonitor. WashingtonCommanders.com was last updated on Nov. 12, while Commanders.com was updated on Thursday, according to Who.is.
Still, speculation over the name Commanders persists. Earlier this month, people noticed that an image of the name and possible logo sat on team President Jason Wright's lap during an episode of "Washington Football Today" on NBC Sports Washington. The same footage was first posted on the team's website. However, it had been blurred out — a possible slip-up in production.
If the name does end up being Washington Commanders, it would only be fitting that they botched the secret by giving NBC Washington unblurred footage. pic.twitter.com/Ho3TeRliGr

— Paul Conner (@P_ConnerJr) January 27, 2022
The moniker "Admirals" also gained steam this month when social media users discovered that "WashingtonAdmirials.com" redirected to the Washington Football Team's website. The redirect, however, no longer exists, and "WashingtonAdmirals.com" now leads to a webpage for the NFL's "Crucial Catch" charity cause.
The team is set to announce its new name Wednesday morning on NBC's "Today" show and is hosting a local event at FedEx Field.