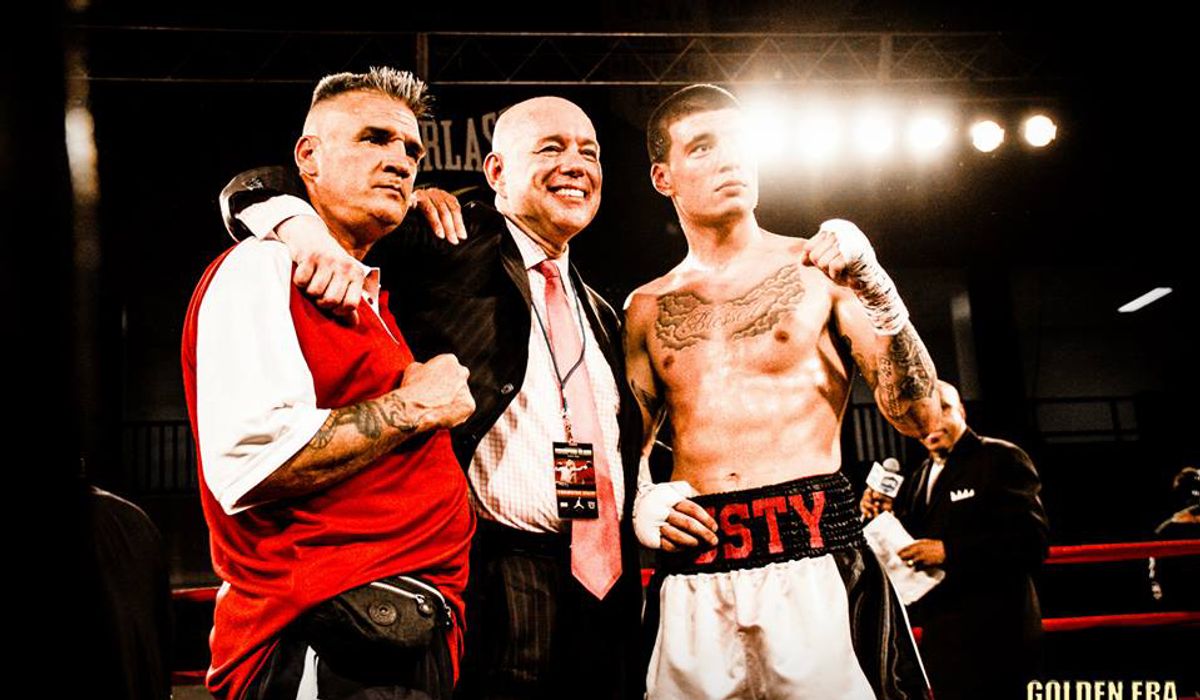 When Anthony Peterson and I spoke before his last fight in May, we talked about death.
He told me about his first time in a boxing gym, when he saw a fighter die after a sparring session. He was also in the arena at the MGM National Harbor in 2019 when Maxim Dadashev died in the ring. And he grew up on the streets of the District. He has seen his share of senseless death.
But perhaps no death will hit him as hard as Saturday's senseless murder of local boxing legend Buddy Harrison.
Peterson saw his friend early on the day he was killed, when Harrison opened his Old School Boxing Gym in Hillcrest Heights, Maryland, so that Peterson could work out.
As Harrison left, Peterson hugged him. "I said, 'Bye Buddy.' And that was it," he said.
Not long after, the 62-year-old street saint was gunned down outside his home in southeast Washington by two unknown assailants. Police are still looking for the gunmen.
"He was one of my good friends, and I miss him," Peterson said. "Right now, I'm not the same. I'm not right. It hurts me."
Peterson will carry that hurt when he steps into the ring again, and so will Dusty Hernandez-Harrison — Buddy Harrison's son.
Both fighters were on card for Saturday's 10-bout Beltway Battles: Round Three at the D.C. Entertainment and Sports Arena that was unexpectedly postponed for a second time this week.
Dusty, 28, was set to make his return to the ring after 2½ years of inaction, frustration and confusion that put his life at risk with some poor choices, including an arrest on gun possession charges five years ago. His weight ballooned up to 270 pounds, as he tried to get his life together. He had worked as a promoter for earlier Beltway Battles before realizing, in April, that he wanted to climb back into the ring.
From 2011 to 2020, Dusty was undefeated, with a 34-0-1 record. His last fight was a knockout win over Les Sherrington in February 2020. He was a middleweight (160-pound limit) at the time.
These days, he's a heavyweight, but he says that he's in peak condiiton and, at least physically, he's ready to restart his boxing career.
His mental outlook, in the wake of his dad's complicated life and tragic death — that's another thing.
"Me fighting is something he took great pride in," Dusty said. "If I don't fight, what is it all for? Why did he make it the biggest thing in our lives? Why did he open a gym?
"When he had cancer, he would get up and run at 5 in the morning before his chemo treatments and then go to the gym later and workout," Dusty said. "Nothing would get in the way of doing it."
When Buddy wasn't working with fighters at Old School Boxing, he was just as devoted to helping the less fortunate. A ex-convict and fighter who had spent much of his childhood in reform schools, Buddy had an awakening when his son Dusty was born and created a small gym of sorts for his son and the neighborhood kids in the basement of the Naylor Gardens Apartments. He also had a spiritual revelation — he could be found most early mornings at church praying. He began devoting his life away from the gym to doing good works, for which he became legendary.
You could find Buddy most weekends in the city handing out donated clothes to the homeless from the back of his pickup truck. There are stories of him giving the shoes he was wearing to a homeless person. He stocked a street pantry with food for anyone who needed supplies. He would often announce on Facebook that any child who came to his gym would get a meal and have a safe place to be.
"His job was truly to help people out," Dusty said. "We would hear stories about this all the time. But he wouldn't brag about it."
As far as carrying on Buddy's work, Dusty said, "He was a one-man army. It would take six or seven of us to do the work that one man did."
Dusty has his own gym — Round 15, in Marlow Heights, Maryland, — and hopes to continue promoting fights in the District and to see how far his comeback in the ring will take him. He will have to do it now without his father.
There have been times when he preferred it that way, when the presence of Buddy as his trainer, manager and father was so great that it drove Dusty away and they had a falling out.
"I'll be honest … at times it sucked. Boxing has given me everything I love in life, but also everything that I have to hate about it. When you have your dad as your coach … most people go to the gym, they've got a coach for three hours of the day. I had one for 24 hours a day."
But they reconciled and Buddy was going to be in Dusty's corner Saturday night. "He will be a hard voice to replace," Dusty said.
You would need a choir to replace the voice of Buddy Harrison.
⦁ Hear Thom Loverro on The Kevin Sheehan Show podcast.