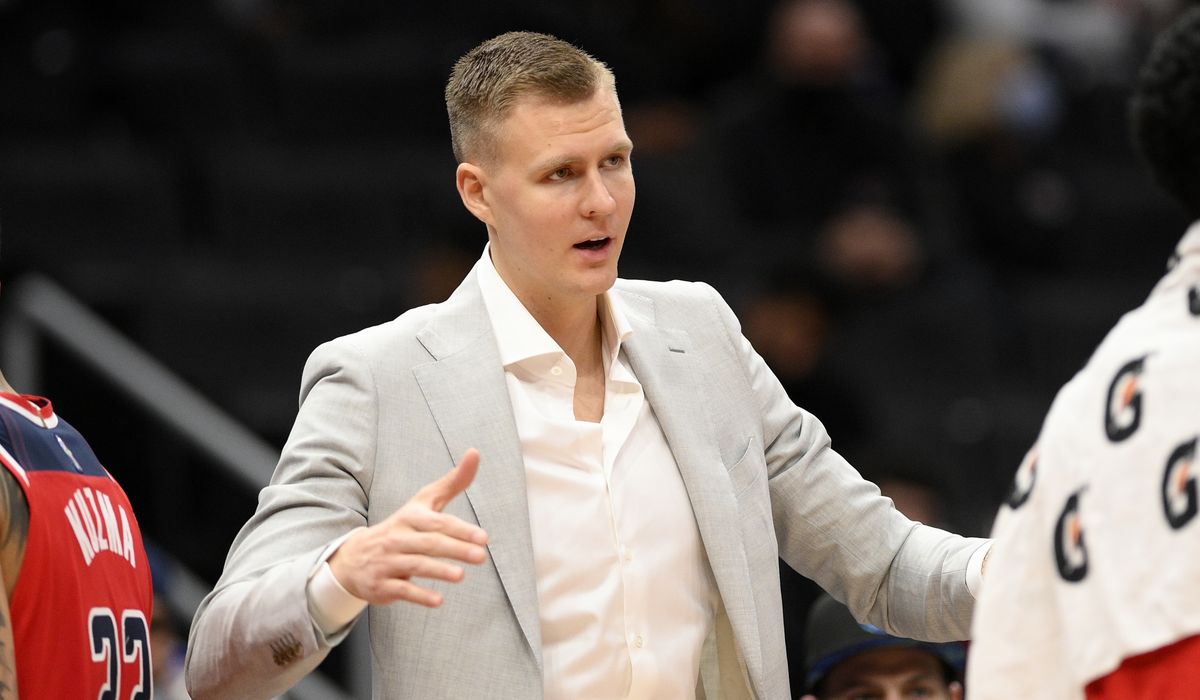 ESPN's Tim Legler came out firing after the Washington Wizards traded for Kristaps Porzingis last week. Appearing on "NBA Today," Legler hailed the trade as a win for the Mavericks simply because they were able to get rid of him. He said it was more than time for Dallas to move on.
"I know they nicknamed him 'The Unicorn' because he's so unique," Legler said of Porzingis. "But he's also 'The Unicorn' because you hardly ever see him."
Legler's zing about Porzingis — one that drew laughs on the set and was shared widely online — referenced the ongoing problem surrounding the 7-foot-3 center's career: He just hasn't been able to stay healthy.
At the All-Star break, Porzingis still has yet to make his debut for the Wizards as he has been out with a bone bruise in his knee. Porzingis and the Wizards have described his status as "day-to-day," but the 7-foot-3 center has been out since Jan. 30 with the injury. In total, Porzingis has only appeared in 34 games this season — marking another year beset with health problems.
The risk around Porzingis' health, however, is one that Wizards general manager Tommy Sheppard was willing to take. For all the concerns, when Porzingis has been healthy, there have been moments when the 2015 fourth overall draft pick has outright dominated games — particularly when he was with the New York Knicks in his first three seasons. The 26-year-old's versatility on offense, especially given his size, is rare.
"He's certainly not someone we're going to park in the corner and ask to shoot 3s," Sheppard said. "He's a lot more dynamic than that. … Him and Bradley (Beal) will be fantastic in a two-man game. We're going to be looking forward to that."
Beal, of course, is out for the rest of the season with a wrist injury — which could partially explain why the Wizards are more than content taking a patient approach to Porzingis' availability. Sheppard, too, told reporters that the acquisition was about the "big picture" rather than the short term.
But how Porzingis meshes with Beal ultimately remains to be seen, granted Beal (a looming free agent) stays with the Wizards past the season. Coach Wes Unseld compared the duo to Denver's Nikola Jokic and Jamal Murray, the dynamic pair whom he used to coach as an assistant with the Nuggets.
In Dallas, however, Porzingis turned out to be an awkward fit with star Luka Doncic. Ironically, the Mavericks often resorted to sticking Porzingis beyond the 3-point line for spacing purposes. In three seasons with the Mavericks, Porzingis averaged 6.2 3-point attempts per game and shot 34.5%. Porzingis will still be able to put points — he's averaged 19.2 per game this season — but the consensus was that Porzingis wasn't the right No. 2 to pair with Doncic.
By the end, the Mavericks were so eager to get rid of Porzingis, the team took on additional salary and years to send him to the Wizards. Spencer Dinwiddie and Davis Bertans, the players Washington sent to Dallas, combined to make slightly more than Porzingis and Bertans' contract is a year or two longer. Porzingis can opt-out after the 2022-23 season, but is signed until 2023-24 if he picks up his $36 million option. Bertans holds a player option for 2024-25.
For the Wizards, they'll now have to see if Porzingis will be available when the season resumes after the All-Star break. Washington begins the last stretch of its season Feb. 25 when it hosts the San Antonio Spurs.
Porzingis told reporters last week that he has to sit out until the bone bruise is healed, but he feels close to playing. Porzingis, whose injury history includes a torn ACL from 2018, added he wanted to make sure he doesn't want to re-aggravate the injury.
Porzingis said he knows he has to prove he can stay on the floor.
"I truly believe that my luck hasn't been the best luck in terms of injuries," Porzingis said. "A lot of them, if not all of them have been contact injuries. Those you can't really avoid, 100 percent. I do my part with being in the weight room, making sure my body is right to stay healthy. But you have to have a little bit of luck."